Subjects
· Why 5S?
. Relation of productivity and working environment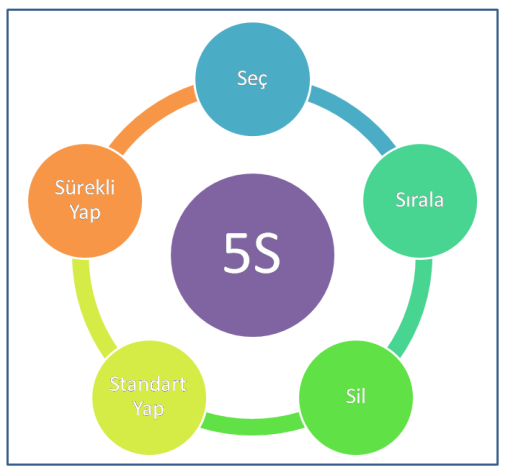 · Explanation of 5S
· Seiri (Sort), Seiton (Set in order) and Seiso (Shine)
· Kırmızı kart uygulaması, stratejilerin belirlenmesi
· Seiketsu (Standardize). Practical workshop for standardize
· Making ergonomic workstations
· 6 movements which makes productivity lover. 5S applications in order to avoid them.
· Shitsuke (Sustain)
· 5S, safety and safety audit system.
· 5S for office workstations
. Example 5S applications
Duration
Duration of theoretical training is 1 day (8 hours)
Duration of practical training 3 - 5 days (24 - 40 hours).
What would you learn?
5S on the shop-floor improves  not only visual situation but also employee's motivation, prestige, safety, scraps, space cost, self sustainability of people. 5S is first step to become a world class company. To develop and / or improve lean production system you need to implement 5s in your area. With this training you will learn how to implement excellent order, sustainability and cleanness.
Who should attend?
People from all department and level of company.
For more information
Download brochure